Play Now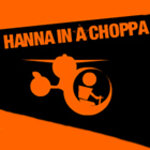 In Hanna in a Choppa, it's time to challenge the gravity and prove you're one of the best pilots around! Jump into the chopper, start the engines, and get ready to take off. Don't expect open skies, as you should prove your mettle through labyrinth-like levels!
The blades of the chopper start to turn, and the sound of the engines is music to your ears. Your objective in this game is to complete each level by reaching and landing by the flag. Apart from many hilarious messages, there are multiple challenging levels in this game. You start from the first one and unlock the rest as you play. Press any arrow key to make the chopper fly in that direction, use the Z and the X keys to rotate, and the SPACE BAR to use the winch to get rid of any obstacles. On each level, you should fly carefully and avoid hitting the walls or ceiling as much as you can. Your vehicle is sturdy, but repeated blows on it will cause it to be destroyed. This results in failing the level, and you'll have to start again. If reaching the flag through maze-like levels doesn't satisfy your sense of accomplishment, then you can try to collect all the achievements! Good luck and enjoy!
Check our collection of free skill games by clicking here, and play until your fingers get sore! Have fun!
Developer
DeeperBeige.com developed Hanna In A Choppa.
Features
Colorful 2D graphics
21 different levels to complete
Intuitive controls
Entertaining gameplay
15 different achievements to earn
Humorous game messages
Controls
You can use your mouse and the arrow keys to control your character. Use the Z and the X keys to rotate the chopper. Press the SPACE BAR to deploy the winch.