Play Now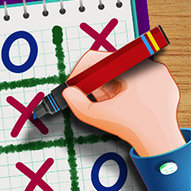 With Tic Tac Toe Paper Note 2, get ready to spend hours of ultimate fun! We brought you the vibes of oldies but goldies this time! Here you are standing in front of a decision-making machine. This game is not only famous for its entertainment but also for its competition. So, grab a friend of yours and let the game decides whose plan will be put into practice for the rest of the day after the competition!
It is time to decide the winner! Although Tic Tac Toe is practically quite different than rock-paper-scissors, they are theoretically very similar. This game also lasts really short and was being used as a decision-making tool between two competitors. The winner gets to say what to do! It is also highly fun and addictive! In this version of this classic game, you can choose the player number options. If you are an ambitious person who enjoys challenging the AI, you can select the single-player mode and compete against the CPU. Or you can invite a friend and make this competition even hotter by choosing the two-player mode. You are also free to decide the game rounds as 3, 5, or 10. What you should do to win is lining up 3 same symbols. They can be lined up horizontally, vertically, and even cross. If your opponent can mark the symbols before you do, they win. May the best wins the game!
Be sure to check our collection of free and online puzzle games by clicking here to browse more fun titles like this game.
Developer
RHM Interactive developed this game.
Release Date
April 19, 2019
Features
3D colorful graphics
Two game modes as 1 player and 2 player
Round number options
Entertaining and addictive gameplay
Controls
You can use your mouse or finger to play this game.