Play Now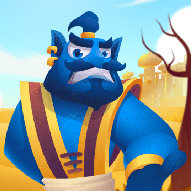 Genie Quest invites you to a magical world where once all the supernatural creatures and humans lived harmoniously until the evil sultan captured the genies and prison them into the palace. Help Aladdin and Jasmine to save these mystical creatures in this fun matching puzzle and fight against the governor. If you are ready, here's your magic carpet!
Welcome to a story of two brave heroes who revolt against the evil sultan in the royal palace. In this adventure, lots of dangers and wickedness will be waiting for you. You can be either our beloved prince, Aladdin, or his beloved princess Jasmine while accomplishing your great mission. Everything began when the arrogant Jafar captured the genies into the palace. You gotta get them out of there! How will you do so, though? Pass the levels all the way through the prison by completing the targets in this fun match-3 adventure. Tap on the genies and make a line of at least 3 same ones. You can link them vertically, horizontally, and even diagonally! But don't forget to check the number of your remaining moves from the top of the game screen. The goals will help you progress by giving you experience and collecting the stars. You may face many obstacles and traps, but don't worry because you'll receive various boosters and power-ups! If you are ready to jump on the magic carpet, it is time to whistle then!
If you go on another match 3 adventure as fun as this one, then you should check Skydom by clicking here.
Developer
Narenjo developed this game.
Release Date
February 10, 2021
Features
2D colorful graphics
Adventurous game background
Famous characters to play
Entertaining and addictive gameplay
Controls
You can use your mouse to play this game.