Play Now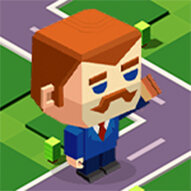 In Shopping Mall Tycoon, your dreams of becoming a businessman are about to come true. The famous avenue that is the home of many different shops awaits its next owner. Now that you bought the whole place, only one question remains. Do you think you will be able to run this shopping street successfully?
Swimming in money, living in a mansion, and becoming as rich as Bill Gates. All of this can become true in this fun management game. All you need to do is work hard and make wise choices. Do you think you will be able to make the customers come back for more? There's only one way to find out. Let's begin! There are many shops and stores to build here. First, buy some land with diamonds. Build coffee houses, ice cream shops, burger shops, and many other places. Upgrade these places to earn more money. With the money you have made, you can buy even more upgrades and shops. To see the upgrades, you can click on the buttons at the bottom of the screen. Try to complete all the achievements to earn more diamonds. You can also see the achievements on the bottom of the screen. Have fun playing!
If you enjoy living life as an entrepreneur, play Taps to Riches by clicking here and prove you were born to do this. Enjoy!
Developer
Yizhiyuan Network Technology Co., Ltd. developed Shopping Mall Tycoon.
Release Date
April 26, 2021
Features
Many shops to build
Upgrades to buy
Nice 2D graphics
Intuitive controls
Controls
You can use your mouse to play this game.