Play Now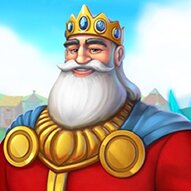 The Mergest Kingdom, get ready to rule your own lands! You can create a whole new kingdom by merging hundreds of objects and harvesting various plants! Complete the requests and rebuild this legendary kingdom in no time. Are you ready to find yourself in an evitable fairytale where even evil spirits can be useful for you to improve your lands?
Nothing's impossible here! Once you enter this magical world of the Seventh Realm, you can create your own kingdom with your own rules! Change the places of the objects according to your own taste of decoration and enjoy the blooms that this adventure will provide you. You can merge anything you see on the ground and make a whole new product out of them. Not only harvests and fruits are waiting for you here. Also, precious gems, jewels, dragons, and loyalty items will be waiting for you too! What you should do is complete the quests and claim your rewards! What else could be more fun and satisfying? Every action that you take creates an equal return on these holy lands. When you complete a quest or take a step to do so, you get coins, gifts, and other prizes that you cannot even imagine. Mysterious creatures and royal members of our beloves story are looking forward to meeting you. So, click on the play button now to jump into this amazing adventure in no time!
Don't leave yet! If you are up for another endless adventure where you can improve your business and make lots of profits with your success, then be sure to check Pocket Tower by clicking here.
Developer
Clever Apps Pte. Ltd. developed the Mergest Kingdom.
Release Date
May 28, 2021
Features
3D colorful graphics
Fun and exciting backstory
Endless management adventure
Daily quest and rewards to claim
Controls
You can use your mouse to play this game.