Play Now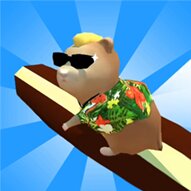 Build a town for your lovely little friends with Hamster Island! Invite new hamsters to care for, build farms, and tend and harvest your crops! Match your hamsters with ideal mates and welcome baby hamsters to this hamster heaven! Level up as you progress, invest in new services for your furry folks, and turn your island into dreamland for hamsters!
We have everything you would need on a deserted island: hamsters, hamsters, and hamsters… With some start-up money, of course! You can now start by building a farm to feed the hungry little mouths and hire a farmer hamster to get a passive income. Every passing second returns to you as gold, but you must check on the rewards and achievements to get your prize money to get some help with your tasks at ruling this island! Invite a mate for your hamster and build a café to entertain the public and give them a space to hang out after busy days in this paradise. You can continue with a library to educate your tiny folks and follow the list to keep expanding your island. Invite new people at every chance you get, upgrade your buildings and stations, and accept random offers to grow faster!
If you would like to see more games like this, you can check out our Girls Games!
Developer
YAD.Com developed Hamster Island.
Release Date
May 23, 2022
Features
Nice 3D graphics
Relaxing pastel colors
Adorable character design
Unlockable content
Daily rewards
Controls
You can use your mouse to play this game.