Play Now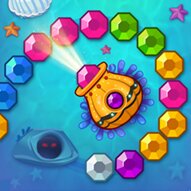 With Zumba Ocean, get ready for a watery adventure with one of the most popular puzzles, Zumba! If you have enough of the burning heat of the summer months, we have good news for you! This fun puzzle game will make you feel fresh and motivated. Featuring several challenging levels and differently designed playgrounds, you are so gonna love this game. If you are ready to figure out what is waiting for you here, then let's click on the play button and start the game!
Have you ever heard of this puzzle game series before? Even if you haven't, let us give you brief info, then. It was the most popular skill needed puzzle game when it was first developed. And now, it is here back with us, once again with a whole new theme and playgrounds! In this adventure, your objective is to clear all the colorful balls by matching them with the third. They should be at least 3 same-colored balls to be cleared. Click with your mouse by targeting the direction where you want the ball to go and launch it. The left-click allows you to change the current color of your ball. You will encounter various boosters and power-ups that can help you complete the levels! Collect them all and win the game! Good luck now and have fun playing!
Here is one of the most popular versions of this series which everyone was addicted to. If you want to try it now, then be sure to check Zumba Mania.
Developer
Inlogic Software developed Zumba Ocean.
Release Date
June 7, 2021
Features
2D colorful graphics
Zumba bubble shooter adventure
Simple controls
Fun and engaging gameplay
Controls
You can use your mouse or finger to play this game.