Play Now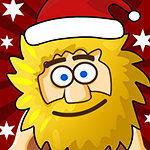 In Adam & Eve: Snow, get ready to join everyone's favorite adventurous caveman, Adam. As Christmas approaches, Eve wanted to decorate their house for celebrations. All they need is a nice tree in the corner, and that's where you step in. Can you help Adam to find a nice tree that Eve will love?
It's not a Christmas party without a nice tree standing in the corner! Eve knows that and told Adam to not return until he finds one! The main objective of this game revolves around this story, as you try to find a tree by helping Adam. You can play the game with your mouse, so click on the play button to start. Each level in the game presents a different challenge and a puzzle that you should solve to proceed. Click on the items you see on the screen and try to figure how to open the path to Adam. From castles to wintery forests, these levels will take you through many different locations. Pull the levers, push the buttons, and remove obstacles from your way. When you find the best tree for Eve, bring it back to her so she can be happy! Good luck!
For more games like this one, be sure to visit our collection page of online puzzle games. Have fun playing our free games at Yepi!
Developer
Functu developed Adam & Eve: Snow.
Release Date
December 2, 2019
Features
Colorful 2D graphics
Entertaining gameplay
Intuitive controls
Multiple levels
Controls
You can use your mouse to play this game.