Play Now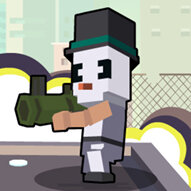 In Xmas Rooftop Battles, Christmas is just around the corner! Some people like to decorate their home, bake cookies, celebrate this day with their loved ones and all. But others, including Santas, believe it's time to spice things up a bit. Are you ready to witness the battle of Santas?
You better get your candy cane because the fight is about to start. Head to the rooftop to keep the battle away from other people. Your objective is to win each match by making sure your opponents fall off the roof 3 times. There are 3 game modes you can try. The first one is the tutorial mode where you can practice your aiming skills. The second one is the 2 player mode where you can challenge a friend and find out who the best player is. The third one is the main game mode where you can take on players from all over the world. Act before your opponents and aim carefully to win. Unlock all the character skins by winning matches. Good luck! May the best Santa win!
Do you want to play more games like this one and test your shooting skills? Then you better check out Heads Mayhem by clicking here. Enjoy!
Developer
DAB3 Games developed Xmas Rooftop Battles.
Release Date
December 16, 2019
Features
Online gameplay option
2 player game option
16 different skins to unlock
Entertaining and challenging gameplay
Controls
As player 1, use the W key to jump and the E key to fire. As player 2, use the O key to jump and the P key to shoot.