Play Now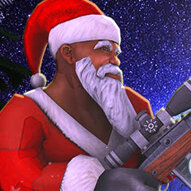 Winter Clash 3D invites you to a thrilling fight among Santas! What can be weirder than this? Imagine lots of Santa Claus, controlled by players all around the world! Sounds interesting enough? Then you should click on the play button in no time and find out how it can get more interesting now!
Oh the Christmas spirit! Where are you? We have no idea what happened, but we are all in the middle of something very strange. Maybe Santa Claus is real, or killers dressed up like him. Not important, though. In this fun multiplayer 3D game, your objective is to be the last Santa standing! Once you enter the game, the thrill begins. You will find yourself on your team's base covered with enemies. Control the view with your mouse and move around with WASD or arrow keys. Takedown your enemies and earn lots of coins to upgrade your character. The opponent team's soldiers have a red mark on their heads. While wandering, you can find different weapons like snipers that allow you to do headshots! As you progress, you can also unlock golden weapons with your earnings and master the game. The one with more kills wins the round. You have a very limited time to win the round. So, act quickly and show no mercy. If you are ready for the thrill, let the game begin! Good luck and have fun playing!
If you want to try another game similar to this one, then be sure to check Dead Zed by clicking here.
Developer
Freeway Interactive developed this game.
Release Date
December 3, 2019
Features
3D epic graphics
Character stats to upgrade
Various weapons to find and unlock
Opponents from all around the world
Controls
WASD keys or arrow keys to move around. Mouse to control the view and left click to shoot. The "C" key to bend.