Play Now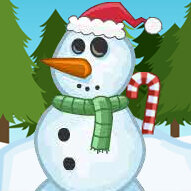 In Running On Christmas, help this cute little panda to keep running in this dangerous forest at this special time! No matter how the Christmas spirit is covered everywhere with its magic, the deep inside the woods are full of deadly surprises. This little one needs your help to avoid such obstacles and reach its destination. If you are ready, click on the play button and start the game!
Run panda run! Run for your life! You are too little to stay alive in such a wild environment! But to celebrate this holiday with its family, it has to pass some dangerous paths. It is worth the risk, right? In this fun and challenging adventure, you should take control of the panda and follow the path by avoiding the obstacles. In the woods, you will face creepy skeletons, trolls, wild animals, and the worst, big ice caps. You have 3 lives to complete your run. You can check your remaining lives from the left top of the game screen. Just next to it, you can see the bombs. You can use those bombs to destroy the obstacles except for the ice caps. They are not easily breakable, unfortunately. See your score at the end of the game. You can restart from the beginning when you use up your lives. Good luck and have fun playing!
If liked this running adventure and want to try another similar to this one, then be sure to check Tom Runner.
Developer
MBG Network developed this game.
Release Date
December 24, 2020
Features
2D colorful graphics
A cute panda to take control
Endless running adventure
Fun and engaging gameplay
Controls
Use the up arrow to jump and the SPACE BAR to send bombs.