Play Now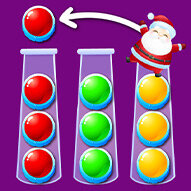 Keep the Christmas spirit alive with Ball Sort Xmas! This puzzle has the brain workout you need with a dash of holiday joy! Come and join us in these brain gymnastics in Christmas colors!
This year you get tubes with four balls in each! The balls are in random colors, and you have four balls of each color. The goal is to collect the same colored balls in one tube. You can only move the top ball in every tube, and to move a ball to another tube you also need the top ball on the second tube to be the same color as the ball you want to move. You get 5 free chances to take a move back at every level. After you are done arranging the balls, you will have one or two empty flasks left. You have snow-filled tubes at the start, but with time you collect gold for the levels you successfully passed, and you get to unlock different tubes with those golds by going into the main menu and dropping by the game shop. You can get an extra 100 coins by watching an ad at the end of every level and discover even more skins!
You can check out Santa Puzzles for a different kind of challenge for your brain while holding onto the Christmas spirit!
Developer
BestGamesFreePlay.com developed Ball Sort Xmas.
Release Date
December 16, 2021
Features
Colorful Christmas theme
100 levels of increasing challenge
Easy to play
Unlockable custom looks
Available on mobile devices
Controls
You can use your mouse to play this game.