Play Now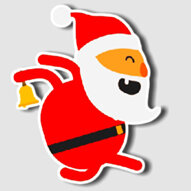 Santa Claus Rush brings the Christmas spirit in the most thrilling was as possible! Are you up for some running adventure on this special day? Santa must bring gifts to all of the children in the world. That makes a lot of gifts, right? That's why he needs to rush and collect those gifts by avoiding the obstacles. Are you ready to give him a hand and manage this mission now?
Jingle bells, jingle bells, jingle all the way. Oh, what fun it is to run, in open-air towards the height! It is Christmas time, and we have a lot of work to do! Santa should collect the gifts in this magical forest but needs your help to do so! Where all these rockets come from? Not sure, but not important either! Avoid the rockets and collect as many gifts as you can. Your objective is to go as far as you can by staying alive because you have only one life in this adventure! Use your keyboard arrows to jump, double jump, slide, speed up, and slow down. If you are playing on mobile, you can simply tap on the screen as it's shown on the tutorial. Santa is so lucky to have you! We wish you both good luck and lots of fun together!
If you want to enjoy another Christmas themed, rush adventure similar to this one, then you should be checking Santa Run by clicking here!
Developer
Vi Games developed Santa Claus Rush.
Release Date
November 6, 2020
Features
2D colorful graphics
Fun backstory to enjoy
Endless running and jumping adventure
Entertaining and engaging gameplay
Controls
The up arrow is to jump and the down arrow is to slide. The right arrow is to speed up and the left arrow is to slow down. You can tap or click on the screen as well.