Baby Hazel Christmas Time
Play Now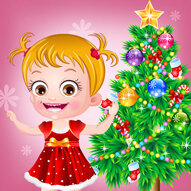 Baby Hazel Christmas Time invites you to a part full of fun! This year, Baby Hazel is organizing the Christmas Party home. Can you give her a hand about the planning? You should help her to decorate the home first. Then you will be doing various fun activities together! Maybe Santa decides to come to spend time with you guys this year. Who knows? Let's jump into the adventure and find out!
Wow! We have a special guest this Christmas! Santa himself will be joining the party. But there are lots of works to do first! Help baby Hazel to decorate the home before her friends show up. You can find some spare time to play with the pets too! Once you are done with decorations, you can move on to the next level! It is time to play in the snow now! What about doing cute snowmen altogether? Click on the snow and make sure your friends doing it correctly. Let's move on to the next level! Here, we will be decorating a delicious cake with Hazel. Click on the ingredients and help her put them on the cake. In the 4th level, you'll be enjoying the treats while waiting for Santa Claus to come. Oh, here he is! He brought lots of gifts! Yee-haw!
Don't leave us now! We have other fun adventures of Baby Hazel here. If you want to join one of those, then be sure to check Baby Hazel Halloween Party by clicking here.
Developer
Baby Hazel developed this game.
Release Date
November 18, 2019
Features
2D colorful graphics
Fun backstory
Cute characters
5 levels to complete
Controls
You can use your mouse to play this game.