Play Now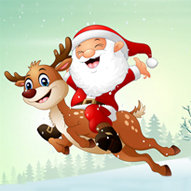 In Tour of the Santa Claus, Christmas is knocking at your door. Do you know what that means? It means Santa Claus is coming to town! Yippee! We just love that cute old man so much. He always brings presents with him. But just for this once, he also needs some help. Do you think you can complete all the puzzles in this game?
It's that time of the year again which means Santa has to travel the world to spread the Christmas joy. But there's a teeny-weeny problem that we need to solve. During his travels, Santa has taken many pictures of himself, children and the places he has seen. But alas, all the pictures are divided into parts. Someone needs to put the pieces together so Santa can hang the pictures on the wall of his house. In this game, your objective is to complete all the levels and put the puzzle pieces together. Let's start with the first one. Just click on one of the pieces and drag it to the correct position to complete the picture. You only have 15 moves for each picture so think carefully about which piece belongs where. If you can't complete the in 15 moves, you'll have to start again. Try to complete each picture as quickly as you can to earn more points. Have fun!
Deck the halls with boughs of holly. 'Tis the season to be jolly. Play Christmas Balloons Bursting now by clicking here to get into the Christmas spirit. Enjoy!
Developer
Pro_Gaming developed Tour of the Santa Claus.
Release Date
December 3, 2020
Features
30 levels to complete
Entertaining gameplay
Colorful 2D graphics
Intuitive controls
Controls
You can use your mouse to play this game.