Play Now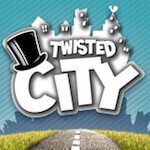 In Twisted City, the mayor urgently needs an intern who can replan the roads of the city! Since you are so willing to step into big responsibilities and want to fix this city, he chose you for this position. What you should do is to solve the puzzles and complete the roads for citizens to reach the places they need to go. Can you handle this task?
What a big city is this!? It has so many roads and buildings. Luckily, we have you as the solution to all of our problems! In this fun and challenging strategy game, your objective is to provide transportation between the two given locations by solving the puzzles. You can click on a road piece to turn it in the correct direction to connect it with the other pieces. However, you will face with move and time limits depending on your current level. So, you'd better plan your moves in your mind beforehand and take action when you decide what will be your steps. If there is more than one direction to go, you should be careful about the buildings you should connect first. Once you complete one road, the game will allow you to pass to the second connection. If you are ready, then it is time to brainstorm!
If you want to try another strategy involved puzzle game similar to this one, then be sure to check Doodle God: Fantasy World of Magic.
Developer
Kizi developed this game.
Release Date
April 24, 2017
Features
2D colorful graphics
Mini-levels to pass
Puzzle solving
Entertaining and addictive gameplay
Controls
You can use your mouse to play this game.