Play Now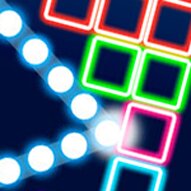 Bricks Breaker is here to steal your heart with its neon colors! Sharpen your aiming skills in this aesthetically pleasing arcade world! Decide between two incredibly addictive game modes and get your brain to exercise however you want! Find your way out of difficult levels through the power of knowing how to get rid of these numbers!
You can try your luck with the endless mode and try to keep up with their pace as new numbers increase almost violently. In this mode, you start with only one ball and collect more on your journey. The numbers increase much faster than the number of balls you have, so plan everything accordingly and enjoy the time you have. The second mode is the classical one with more than three thousand levels. You start every level with fifty balls. You can come across some additions on your way, but these extra balls you get can't stay with you for other levels. Aim directly at the blocks or make a more complex plan and use walls to decrease the numbers. Evolve with the challenge that increases with every level and unlock new achievements! Collect diamonds with these achievements and earn stars to unlock even more challenges!
If you like shooting bubbles and boxes, you can check out our Bubble Shooter category by clicking here!
Developer
Playtouch developed Bricks Breaker.
Release Date
February 22, 2022
Features
Neon arcade theme
Easy to play
Thousands of addictive levels
Available on mobile devices
Controls
You can use your mouse to aim and shoot.