Play Now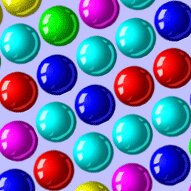 With Bubble Game 3 Deluxe, the bubble shooter craze non-stop continues to entertain its fans! With the new background and skin options, you won't get enough of popping these bubbles. You can increase your points, earn lots of coins and customize your game as you wish. If you wonder what else you can do here, then let's click on the play button and start this adventure right away!
One of the most famous bubble shooter game series, Bubble Game continues to entertain its players from all around the world with new customization options and challenges! Featuring its 3D graphics that make you feel like popping these bubbles with your own hands, you will fall for this adventure. In this fun game, your objective is to shoot the same color bubbles with your bubble to pop them. You will be trying to clear the screen by shooting all the bubble clusters. To pop them, there should be at least 3 of the same color bubbles. This deluxe edition also allows you to unlock various backgrounds with beautiful sceneries. As you shoot the bubbles, you will earn coins. You can use these coins to unlock new backgrounds and skins for your bubbles from the in-game shop. Don't forget to claim your daily bonus to enjoy these features! Good luck now, and have fun playing!
If you haven't tried the Christmas edition of this popular bubble shooter game series, then be sure to check Bubble Game 3 Christmas Edition by clicking here.
Developer
Agame developed Bubble Game 3 Deluxe.
Release Date
June 16, 2021
Features
3D colorful graphics
Daily Bonus to claim
Various backgrounds and skins to unlock
Fun and addictive gameplay
Controls
You can use your mouse or finger to play this game.