Play Now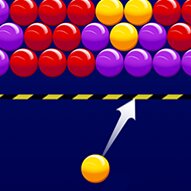 In Bubble Invasion, the invasion has begun. Can you guess your arch-nemesis in this puzzle game? No, it's not zombies. Well, it's not the aliens either. It's the bubbles. Your enemy may not seem that scary and powerful but imagine a world full of bubbles. It's a problem that you need to take care of. Are you ready to put an end to this invasion and become a hero?
Look up! The sky is filled with colorful bubbles. We are looking for someone with sharp eyes and good aiming skills to pop all these little balloons to see the sky again. Do you think you qualify for this position? If so, let's start playing right now! All you need is your mouse to play this game. Just like the other games in this match-three category, you need to match three of the same colors to clear the board. There are also special bubbles in this game that can help you clear the sky. For instance, the star can make you clear the entire level. Aim for this star in each level to earn more points. The faster you finish a level, the more points you'll earn. Try to complete each level before the timer on the top of the screen ends. Have fun playing and saving the earth!
Get ready to play another match-three game with cute felines. Check out Pop Pop Kitties now by clicking here. Enjoy!
Developer
MarketJS developed Bubble Invasion.
Release Date
April 13, 2021
Features
Many different bubble types
Many levels to complete
Intuitive controls
Nice 2D graphics
Controls
You can use your mouse to play this game.