Play Now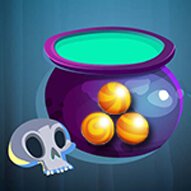 In Spooky Bubble Shooter, clear the play area and save the Cherry Monster by shooting matching-colored balls! let's get into some bright-colored bubble-shooting fun! To match three or more bubbles of the same color, you must use your talents and tactics. Are you sure that you'll be able to complete every level? Have fun!
Tick tock! A simple but great bubble shooter in a spooky Halloween theme! Welcome to the bubbly world of joy! This bubble game is suitable for players of all ages. Your goal in this entertaining game is to explode all of the bubbles in order to accomplish all of the level objectives! If you're ready to have a good time, click the play button to start the game. To explode the bubbles, you must match at least three of the same color. You can explode the bubbles by throwing them with your mouse. To make the bubbles explode, make sure you're throwing them in the right spot before releasing the mouse! There will be several power-ups in the game, such as the bomb and the color-swapping bubble power-up! Don't forget to use them! As in any bubble shooter game, if the bubbles reach the bottom, the game will be over! Have fun and good luck!
If you liked Spooky Bubble Shooter, to check our collection of free and online bubble shooter games, click here!
Developer
Wanted 5 Games B.V. developed Spooky Bubble Shooter.
Release Date
June 16, 2021
Features
2D graphics
Entertaining gameplay
Intuitive controls
Easy controls
Controls
You can use your mouse to play this game.