Play Now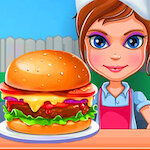 In Burger Chef your dream of becoming a chef is about to become a reality! All your life you have wanted to be a chef and have your own burger restaurant. And now you have it! Your very first burger restaurant. You know that starting is the hardest thing! But now that you have your restaurant, do you think you can keep it up?
Its the opening day of your burger restaurant! Yay, you finally did it! But the challenging part is about to begin! You're going to face some really hungry customers! You know how it is! You're not yourself when you're hungry! So, you have to feed them to keep them happy. Your objective is to prepare delicious burgers in the limited time you have. You have to prepare them according to your customer's request. Be careful and place the ingredients in the right order and don't make them wait. Oh, there's nothing scarier than an angry customer. After all, the customer is always right so hand quickness is important in this game. Click the left mouse button to choose the ingredients the customer wants. Prepare as many delicious burgers as you can to make more money. Your burgers are going to be so delicious that your customers will lick their fingers! Let's get started then!
Now that you're a famous chef it's time to its time open another restaurant, don't you think? Play Burger Chef Restaurant now and get ready to run your second restaurant.
Release Date
October, 2018.
Features
Fun gameplay
Colorful 2D graphics
Many levels to complete
Intuitive controls
Controls
Use the left mouse button to choose the ingredients.