Play Now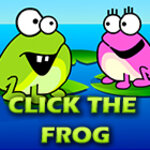 In Click the Frog, the cute amphibian characters of this game invite you to a test! Frogs like to jump around and chill on lotus leaves, but the mischievous ones in this game decided to spice up their lazy afternoon with a series of fun challenges. Do you have what it takes to pass the little fun tests of them?
In the wild, you can only survive if you're fast enough to escape from predators. Frogs know that, and they want to test how fast your reaction speed is. Relying on your hand-eye coordination, your objective in this game is to finish each level by completing the tasks in it. You can play the game with your mouse, so click on the play button to start. There are 12 levels in this game, each with a unique task. When you start a level, you'll see your objective at the top. When you're ready for the challenge, click on the screen to begin. You usually have to complete a task as fast as you can or under a certain time limit. You can earn up to 5 stars on each level, and this depends on how good you perform. There are also 18 different badges you can earn. You can track your badge progress from the badges menu. Can you collect all badges and prove your talents to these noisy and cute animals? Good luck!
When you finish proving yourself to these frogs, why not take other challenges? Go ahead and check our category page of online and free skill games. Enjoy!
Developer
Playfo developed Click the Frog.
Features
Colorful 2D graphics
18 different badges to earn
Intuitive controls
Entertaining gameplay
12 different levels to complete
Controls
You can use your mouse to play this game.