Play Now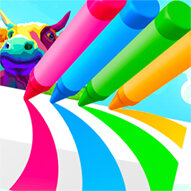 In Pencil Rush Online, get ready to discover the secret life of pens. Our belongings may be inanimate in real life, but they are so not in this skill game. Are you ready to see what happens when humans aren't around? Let's play now and find out!
Shh. Humans are gone. Open the lights and prepare the race track. Great! Now we can have some fun of our own. In this game, your objective is to take control of pens and help them complete the track. Who says pens can't run? All you need is your mouse to control them. Press the left mouse button and swipe left and right to move them. On the platform, you can see other pens that you can collect. Try to get them all. After all, there is strength in numbers, right? The humans who live here are a bit messy, so their things are all over the place. Overcome all the obstacles like books, paints, and cups or you'll lose a couple of pens. Be careful and stay on the track or they will fall down to the floor. When you finish the race, press the left mouse button and hold it to throw all the pens to the blank canvas. If the pens you have aren't enough to complete the painting, finish it in the next level. Complete all the levels and complete your collection of paintings. Don't forget to buy upgrades with the gold you earn. Have fun!
If you are looking for more games like this one but with more thrill and excitement, you can check out Fun Escape 3D. Enjoy!
Developer
YAD.Com developed Pencil Rush Online.
Release Date
April 29, 2021
Features
Many levels to complete
Drawings to unlock from the collection
Intuitive controls
Upgrades to buy
Controls
You can play this game with your mouse.