Shaun the Sheep Chick N Spoon
Play Now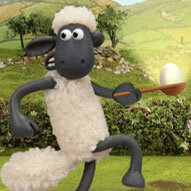 Shaun the Sheep Chick N Spoon is here to test your skills and agility! You will help the Shaun get him as far away without breaking the chicken egg! This challenge is so important for Shaun, so jump in the game right away and make him get the points! Have fun!
An egg-and-spoon race is a sporting event in which participants must balance an egg upon a spoon and race with it to the finishing line. So today our Sheep Shaun is attending one of these races and we need to help him win. He needs to carry the egg on the spoon as far away as he can without breaking it. But this race is a little different than the ordinary ones, there are stars that you need to collect, and to collect them, you need to throw the egg up without falling it. You can use your mouse to move. The chicken egg can hit the ground 3 times, but no more, or the game over. You must be careful not to drop the egg as it breaks down and you lose a life. If you finish all the lives you have to start over the game. Use your bouncing baby chick to help you and try to avoid the mud puddles while running! You can use your arrow keys to catch up with your chick. Let's see if you are good at the egg and spoon game. Good luck!
If you want to play more skill games, and try another one similar to Shaun the Sheep Chick N Spoon, then be sure to check Eggy Car, too.
Developer
Agame developed Shaun the Sheep Chick N Spoon.
Release Date
March 30, 2021
Features
2D graphics
Challenging gameplay
Entertaining gameplay
Various levels to pass
Controls
You can use your mouse to play this game.