Play Now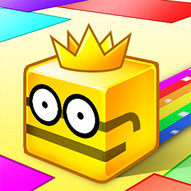 In Paper.io 2, get ready to take your place in a colorful competition! Players from all over the world are flocking into the arena, but there can be only one winner! Take control of your character, and try to carve a space for yourself as you avoid your opponents. Can you become the biggest player and reach the number 1 place on the leaderboard?
Look at all those colorful squares moving around trying to claim a space! It's time to join and show them you're the best. The main objective of this game is similar to the first game of the series. You take control of a square and try to claim as much space as you can for yourself. You can play the game with your mouse, so hit that play button to start! Don't forget to give yourself a name, so you can track how well you're doing on the leaderboard. You move automatically, but you should change your direction. To do that, move your cursor around the screen. Watch out! There are other players around who try to be the number one too. They can kill you if they touch your tail before you enclose a space. You can use this strategy against them too! Keep your eyes peeled, and play carefully to make it to the top! Enjoy!
If you enjoyed playing this game, be sure to check our other popular title Lordz.io by clicking here. Have fun!
Developer
DRA developed Paper.io 2.
Release Date
May 20, 2019
Features
Colorful 2D graphics
Online multiplayer gameplay
Simple controls
Addictive and entertaining gameplay
Controls
Use your mouse to control your character.