Play Now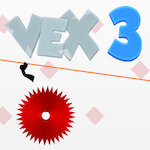 In Vex 3, our agile character is on the go for the 3rd time, and this time, his road is filled with even more dangerous traps! As the master of parkouring and dancing around challenges, the main character of this game has the true heart of a daredevil. Despite his unending energy and tricks, he still needs your help in this adventure. Can you help him complete all the acts and prove that he's the best?
Spinning blades and sharp spikes might the worst nightmare of an ordinary person, but these are just some dangerous toys for our character. Just like the previous titles in the series, your objective in this game is to complete each act without dying. You can control your character with the arrow or WASD keys. The levels are called acts in this game, and you have to unlock each, one by one. When on an act block, press the down arrow or the S key to enter it. Jump from walls, slide beneath the blades and try your best to dodge the many dangers hidden in each level. Activate the checkpoints along the way so you can spawn on them when you slip and die. You complete a level when you reach and enter the portal at the end. Can you complete all the levels and collect the achievements?
The action continues on the next game of the series, Vex 4! Go ahead and try it now! Have fun!
Developer
Azerion developed Vex 3.
Release Date
April 25, 2017
Features
Challenging gameplay
Simple controls
10 standard stages
9 challenge stages
Controls
Use arrow or WASD keys to play the game.