Fireboy and Watergirl: The Forest Temple
Play Now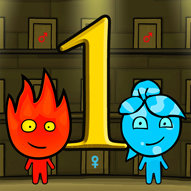 In Fireboy & Watergirl: The Forest Temple get ready to dive deep into the jungle with everybody's favorite elemental duo in their first adventure. No matter what was build before, the forest will reclaim everything. Can you help these two adventurers through the challenging levels of this game and uncover the treasures within?
They know their way around in the long lost ancient temples, but the two main characters of this game need your help! Your objective in this game is to complete each level by keeping both Fireboy and Watergirl alive and make them reach the exit door at the end of each level. One of the key features of the games in this series is that you can control both of the characters by yourself, or invite a friend over to play with by sharing the same keyboard. To start the game, click on the play button. Next, you'll be taken to the level selection screen. There are plenty of levels, but you have to unlock them first. Start with the first level. Fireboy can pass through lava pools but dies when he touches water. The opposite thing applies for Watergirl, as fire is deadly for her. Collect gems and keep both alive to finish each level. Enjoy!
Be sure to check the second game of the series too! Start playing Fireboy & Watergirl: The Light Temple. Have fun!
Developer
The game was developed by Oslo Albert.
Release Date
November 19, 2009
Features
You can control both characters at the same time
You can play with a friend
Challenging puzzles
Multiple levels
Controls
Use arrow keys to control Fireboy. Use WASD keys to control Watergirl.