Play Now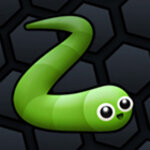 In Slither.io, slink your way into the arena and challenge other players to be the number one player in the online multiplayer environment. Do you have what it takes to become the biggest and the strongest player on the map, and show your opponents that they should fear your endless appetite? Start playing now!
Similar to the other titles under the dot io genre, get ready to take your place in the competition to become the fittest! The main objective of this game is to grow as much as you can and become the player with the most scores on the map. You can play the game with your mouse. Give your character a name and customize its appearance before you start on the main menu. When you enter the map, you'll see many different players. Eat the glowing orbs, and stay away from others in the beginning, as you're pretty small and easy prey for others. After you reach a sufficient size, you can try to hunt others. Touching the tail of others kills you, so be careful. The same applies to your enemies too, so you can try to trick them. Move your mouse around the screen to change the direction you're traveling and left-click on the screen to dash. Good luck!
Be sure to check our other popular title, Piranha.io too. Have fun playing!
Developer
Slither.io was developed by Steve Howse.
Release Date
March 2016
Features
Online multiplayer
Can customize the look of your character
Available on mobile
Leaderboards
Controls
Use your mouse to move around. Press left mouse button dash.