Play Now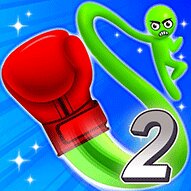 In Rocket Punch 2, the popular game is back with new challenges and skins! You may have taken care of the bad guys in the previous game, but there are always new threats emerging out of the darkness. Luckily, your fists have the power to stop them all. Do you think you can punch your way through all the levels of this fun game?
Who needs weapons when your fists are as strong as iron? Even One Punch Man wouldn't dare to cross your path, but these guys don't understand your strength. It's time to teach them a lesson. In this game, you need to destroy your enemies in each level to complete the game. In each level, you'll need to press the left mouse button and hold it to curve your fist. Don't release the button until your fist reaches its destination. When you knock out your opponents, you can move on to the next level. The game will start pretty easy and get more challenging as you progress. You will need to pick up drills to break through the walls or even punch through the walls. In each level, you only have 3 lives. If you can't defeat them in 3 punches, the game is over. Be careful and avoid hitting the civilians who are being held captive by the bad guys. Don't forget to buy new skins and fists to look even cooler while you defeat evil. Have fun!
Play Rocket Punch one by clicking here. Enjoy!
Developer
kiz10.com developed Rocket Punch 2.
Release Date
May 05, 2021
Features
Unlockable new skins and fists
Many levels to complete
Nice 2D graphics
Fun and addictive gameplay
Controls
You can use your mouse to play this game.