Fireboy and Watergirl: The Light Temple
Play Now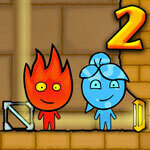 In Fireboy and Watergirl 2: The Light Temple, everyone's favorite elemental duo is on the job again. On their second adventure, this adventurous couple needs your help. Bring your gear, your map, and your courage to explore the temple inside out. Can you keep each of these characters alive through the challenging and puzzle-filled levels?
We don't know who built the Light Temple, but they did a great job with all the deadly traps and tricky puzzles. Your objective in this game is to complete all the levels by taking Fireboy and Watergirl to their respective doors on each level. Just like the other titles in this popular series, you can play the game by yourself or with a friend by sharing the same keyboard. On a level, you'll encounter many traps and obstacles. Fireboy can walk through lava pools, and Watergirl can pass through water pools without trouble. But the opposite elements kill them, so be careful. To pass levels, you should use both characters as the puzzles you'll see require team effort to solve. Each character can collect the gems of their element, so try to grab them all for extra points. You'll have to restart a level is one of the characters dies, so be careful. Enjoy!
If you enjoy playing games like this, be sure to check our collection of online puzzle games by clicking here. Have fun playing!
Developer
The game was developed by Azerion.
Release Date
October 2010
Features
40 new levels to complete
The mysterious Light Temple
Challenging puzzles
Addictive gameplay
Intuitive controls
Controls
Use the arrow keys to control Fireboy. Use the WASD keys to control Watergirl.