Play Now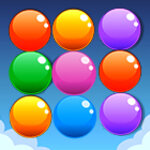 In Cloudy Bubbles, take your place by the clouds to have a relaxing and fun gameplay experience. Similar to the other titles under this genre, you'll play with bubbles in this game. So get ready for some colorful popping because that's where the fun is at!
Popping bubbles is a great way to relieve stress and have fun, and that's what you'll be doing in this game. Your objective in this game is simple! All you have to do is to keep popping as many bubbles as you can to earn a high score without dying. Start the game by clicking on the play button on the main menu. At the bottom of the screen, you'll see your cannon. Use your mouse to aim and click on the screen to throw a bubble to the others. Hitting a cluster made from 2 or more of the same colors of bubbles with a bubble of their color will remove them from the screen. If your shot doesn't remove any bubbles, you'll lose a life point. You can track your life points in the bottom left corner of the screen. Running out of lives will make the bubbles come down a couple of lines. You'll lose the game if even a single bubble on the board touches the bottom part of the screen.
Test yourself against the different and tricky game mechanics in our collection of free and online skill games, by clicking here. Have fun playing!
Features
Colorful 2D graphics
Intuitive controls
Many different colored bubbles to pop
Addictive and entertaining gameplay
Controls
You can use your mouse to play this game.