Play Now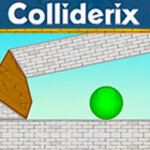 In Colliderix, a fun puzzle is waiting for you! Featuring dozens of levels with challenging designs is a great way to test yourself. Do you have what it takes to complete each level and prove your smarts?
Platforms, balls, and colorful objects are a big part of this game. Your objective is to complete each level by combining the same colored balls and blocks together by removing obstacles between them. The puzzles may seem a bit challenging at first, but with the simple controls, your job is as easy as clicking on the screen. You can start the game by clicking on the play button on the main menu. On the next screen, you can see the levels. There are 40 levels that you can play, but only the first one is available in the beginning, and you unlock each level one by one. When on a level, you have to remove the wooden blocks to make balls and blocks move. Click on these to clear a path, but be careful. You should pay attention to the level design and sometimes, you might need to leave a certain block in place until your ball passes over it. If any of the balls of colored blocks fall down, you'll lose the level and have to start from the beginning. If you get stuck, you can restart the level by using the button below the screen. Good luck!
Be sure to check our other free and online puzzle games for more fun challenges! Have fun!
Developer
Bgames developed Colliderix.
Features
40 different levels to beat
Simple controls
Colorful 2D graphics
Entertaining and addictive gameplay
Controls
You can us eyour mouse to play this game.