Play Now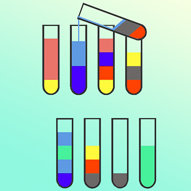 Water Sort Puzzle invites you to challenge yourself with fun a color sorting adventure! This game will lock you in front of the screen for hours of fun. After a while, you won't be able to leave the game out of ambition anyways. If you are ready to start, let the game begin now!
The quizzes and exams don't determine your talents in chemistry. Fortunately, this game does! You have a large board full of liquids with different colors and they need to be sorted into the given tubes. It may sound easy, but we haven't come to the challenge yet. The difficult part is you can only pour the liquids on the same-colored other liquids with a certain amount. Once the tube is full, you cannot overflow these chemicals. If not, we can all blow up, you know! Try to find the best order to sort all the colors by leaving as many empty tubes as possible in advance. If you get stuck and blame the game for not enough tubes that you can pour the liquids, we should let you know that the game is perfectly arranged, and the failure is on you. You can restart the level as many times as you want though. Now that you know all the rules and processes, let's see if you can pass all the levels and complete this fun puzzle game.
You should be checking our collection of free and online puzzle games by clicking here if you are up for more challenges that you can show off by using your great intelligence!
Developer
bestgames.com developed this game.
Release Date
January 12, 2021
Features
2D colorful graphics
Fun color sorting puzzle
50 challenging levels
Simple controls
Controls
You can use your mouse to play this game.