Play Now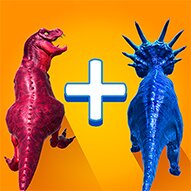 Evolve your soldiers from primitive warriors to war gods with Merge Master! Buy mercenaries and tamed beasts, merge them to get upgrades in your army stats, and unleash hell on the enemy army! Discover new ages as the war technology evolves, unlock new species and warrior types, and race to the modern ages!
Welcome to a world where you win wars to earn money, evolve your army, and upgrade your strength! You need money to keep evolving with this world and victories to keep the gold flowing your way. To do so, you must make sure your army can match the enemy in terms of power. You can try to overwhelm them by keeping your units crowded or merging your soldiers to keep the quality high. You lose two soldiers or monsters when you combine them, but the upgraded warrior you get is strong enough to cover for them both. Click on the buttons below to get new one-level soldiers and dinosaurs. You don't have to rush; recruit new units whenever possible and evolve between levels. Unlock new war technologies and tamed beasts to keep terrorizing the enemy units! You can always watch a short ad to unlock new soldiers when you need more!
If you like this addictive merging game, you can check out Merge Planes and discover all models!
Developer
2Play developed Merge Master.
Release Date
August 22, 2022
Features
Various unlockable species
3D graphics
Addictive gameplay
Available on mobile devices
Simple controls
Changing ages and backgrounds
Controls
You can use your mouse to play this game.