Play Now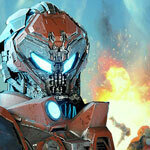 In Battle for the Galaxy, make your enemies regret the day they met you! In this strategy game, command the most advanced forces and lead them into battle! You will fight for supremacy and to be the ruler of the galaxy! Do you think you have the necessary strategic thinking skills to ace this game?
Get ready, warrior! The battle has begun! You need to develop a strategic plan if you want to succeed in your plans to be the one true ruler of the galaxy! Your objective is to build and grow your base to attack enemies and destroy their base. There are lots of things to take into consideration in this game but don't worry! Your advisor will help throughout the journey and winning will be as easy as shooting fish in a barrel! You can also see tips on how to play the game on the loading screen. There are over 20 buildings to build and you need them to defend your base and attack your opponents. You know the best defense is a good offense! You need to land your troops on the battlefield and destroy your enemy's headquarter. Select your troops and move the slider to the right with your mouse to set the amount. When you defeat your foes, you can loot their resources and use them to improve your base. Are you ready for the uphill battle?
Do you like strategic games and thinking like a leader? Play Wars of Worlds now and grow your base to win the war!
Developer
Developed by AMT Games.
Release Date
September, 2016.
Features
Awesome 3D graphics
Intuitive controls
Medals and daily rewards to earn
Entertaining gameplay
Controls
Use your mouse to interact with troops and buildings.