Play Now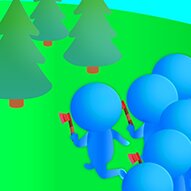 Gather your crowd, collect wood, and let's build towns with Crowd Lumberjack! Bring life to desolated islands with different themes and cultures! Build touristic vacation centers, draw attention, earn gold from the visitors, and increase your power to serve better! Complete missions to unlock new regions and discover new themes you can build in!
Hop onto your flying ship and start traveling to the hidden islands to build new paradises! You might not have an army, but you have yourself for the start, and that is more than enough! Also, you will have plenty of chances to gather and expand your group of workers. Now, let's get to work! You can look around to see if there is anyone available before cutting any trees. The sooner you get crowded, the more efficient your work will be. Plan your path considering the extra people placed around the area and reach them to add them to your team. Build your base and start upgrading your power. You can increase your number of people, movement speed, and overall power. Build workshops to turn logs into materials, and mine stones to complete all your needs for a glamorous touristic center! Discover all maps, and do not leave a stone unturned!
If you like this fun building simulation, you can check out Restaurant Rush and build the place of your dreams by yourself!
Developer
Stickman vs Monster School Team developed Crowd Lumberjack.
Release Date
July 25, 2022
Features
Nice 3D graphics
Unique town designs and themes Improvable stats
Addictive gameplay
Available on mobile devices
Controls
You can use your mouse or the arrow keys to play this game.