Farm Day Village Farming Game
Play Now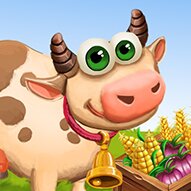 Now you can retire from the monotonous city life and start your peaceful days under the sun with Farm Day Village Farming Game! Get help from the farmers, learn the basics, and quickly get used to your new life! Harvest crops, plant different types of seeds, and feed your chicken daily!
You have a whole life ahead of you to adapt to your days in paradise, so we have a little tutorial for you. You can follow the instructions of another farmer. Click on your crops, grab the sickle from your left, and slide it along the farm to harvest your goods. Then, you can learn how to buy animals and place them. Click on your chicken and feed them. Wait for the cooldown and collect your eggs. Now, you can build a bread factory and start producing. Click on the visitor truck to get requests and complete them to turn your goods into money. Buy more patches and chicken to produce more. Stop by the farmhouse to collect your rewards, and click on the storage to upgrade it. Buy items, build more buildings, and expand your borders. Level up to unlock new options and tend to every need of your farm!
If you like this addictive farming simulation, you can check out Doodle Farm and combine elements to create life on earth!
Developer
The Game Storm Studios Pvt Ltd developed Farm Day Village Farming Game.
Release Date
July 20, 2022
Features
User-friendly interface
Tutorials and hints
Upgradable features and unlockable objects
Addictive and fun gameplay
Daily rewards and achievements
Controls
You can use your mouse to play this game.