Noob vs Pro Castle Defence
Play Now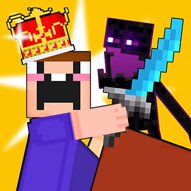 In Stickman vs Monster School Team, Noob is back with even more adventures! This time, Noob somehow managed to become the king of a kingdom that consists of only himself, and now he must protect his lands from the evil creatures that come through a portal every night! Help him build towers and stay safe!
Noob finally found himself in nature and decided to build his own kingdom in the woods. Of course, success comes with responsibilities, and this time his life is on the line. He cannot be both king and commander; someone must help him take necessary precautions! You can build structures on the marked spots on the ground. There are four types of buildings: forges, mines, towers, and archers. As towers are crucial for defense and archers kill enemies, the mines and forges are equally important to keep your kingdom alive. The mines double your income, which means you can rebuild the destroyed towers faster. The forges, on the other hand, increase the health of your buildings, making them stronger. Stand by the fire to recover, and keep protecting your lands! Unlock new areas with gold, and expand your kingdom!
If you like this new adventure of Noob, you can check out Noob vs 1000 Freddys and help him kill monsters in another story!
Developer
Stickman vs Monster School Team developed Stickman vs Monster School Team.
Release Date
September 16, 2022
Features
Noob as the main character!
Immersive gameplay with increasing difficulty
Improvable stats
Increasing strategy skills
Available on mobile devices
Controls
Use "A, D" to move, the spacebar to open the skill menu, and the mouse to choose.