Play Now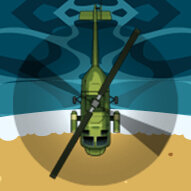 In Defend The Beach, your enemy is at your doorstep. Nothing you can do will be enough to stop the war now. You have to protect your beach from the enemy ships to survive through this war. However, your weapon is going to be something out of the ordinary. Are you ready to unleash the power of words on your enemy?
The sound of bombs is echoing in the distance. The ships are starting to appear on the horizon. You are the only hope left for your country, so get ready to defend this beach! Your objective is to stop the enemy waves by typing the words that appear on the screen. Some of them are going to short words and some will be long. That's why it's important to type fast. If they manage to reach the shore, they will fire missiles at you. Your health bar appears below your cannon, at the bottom of the screen. If you feel like you can't survive through their attacks on your own, just press the red button at the bottom left corner of the screen to call for aid. Aircraft will come to drop down bombs on your enemies. Do you think you will be able to survive through all these waves? Good luck!
If you want to play a similar game to this one, you can check out Zombie Typer by clicking here! Enjoy!
Developer
MarketJS developed Defend The Beach.
Release Date
April 17, 2019
Features
Fun gameplay
Multiple waves of enemies
Nice 2D graphics
Intuitive controls
Controls
Use the keyboard to type the words.