Play Now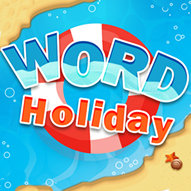 In Word Holiday, you'll get the perfect chance to improve your vocabulary. Do you think you will be able to find all the words and complete all the levels in this fun puzzle game?
Crossword puzzles are one of the most popular word games in the world and for a good reason. It's a great way to build your vocabulary. So, let's start and put your skills to test. In this game, your objective is to find each word in each level to win. To form words, you'll see letters at the bottom of the screen. Click on one of them and drag your cursor to other letters. As the game difficulty increases, you'll see words with more letters and the levels will be more difficult to complete. If you feel like you can't continue, click on the hint button in the left corner of the screen to reveal a letter. You can also click the shuffle button if you are stuck. There are many levels to complete in this game. To make it easier for you to complete all the levels, sometimes you'll receive gift boxes filled with coins for your achievements in this game. You can also find extra words to get more coins. Another way to get rewards is by solving daily puzzles. Start now and unlock 7 different themes and play this game wherever you want. Whether it be Egypt or the forest or the beach...
If you want to play more games like this one, play Word Sauce now and find the hidden words.
Developer
Developed by Yizhiyuan Network Technology Co., Ltd.
Release Date
June 30, 2020.
Features
Colorful graphics
Gifts to recieve
Fu and addictive gameplay
Many levels to complete
Controls
You can play this game with your mouse.