Play Now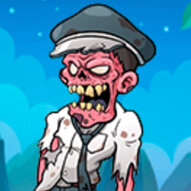 In Zombie Typer, the night is almost upon us. Do you know what that means? It means the dead will start rising from their graves to come and eat your brain. Obviously, these zombies know that a mind is a terrible thing to waste. Let's show these zombies that you're not a defenseless victim and you're too clever for your own good. Are you ready to face your enemies?
There are too many empty graves around. Enough of these zombies, already! Time has come for us to show them how powerful our minds are, and words can also be used as a weapon! Your objective is to defeat the incoming zombies by typing words and earn a high score. When a zombie appears on the screen, you will see a word at the bottom of the screen. You need to type the word to score points and get rid of the dead. When you type the words correctly, you'll earn combos. However, if you make a mistake, the bar at the top left corner of the screen will decrease. You can see the stars bar at the right corner of the screen. If that bar reaches its end, the health bar will decrease again. How long do you think you'll be able to protect yourself with words?
Zombies are everywhere! Check out another game like this one called Zombie Typing by clicking here. Enjoy!
Developer
Arcadesindo developed Zombie Typer.
Release Date
May 27, 2019
Features
Many words to type
Zombies to beware of
Nice 2D graphics
Intuitive controls
Controls
You can use the keyboard to write down the words.