Play Now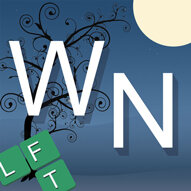 It is gonna be a Wordy Night tonight! If you are looking for a before sleeping activity to tire your eyes, we have the perfect opportunity for you! You can both train your brain with your word knowledge and feel the excitement in your bones during this word game. If you are ready to begin, let's start the game!
You can play this game both on your mobile and computer. That's what makes it so great to play even in a short time, waiting for the bus for example. You'll see a board with empty spots on the screen. Your objective is to fill that board with the given groups of letters around. You should not leave any empty spot on the board. Otherwise, you cannot complete the level. When you place the groups of letters, they should make a meaningful word from left to right. You don't have to worry if the words are not meaningful when you read them from top to down. If you get stuck and cannot come up with an idea, you can use the hint situated at the left bottom corner of the game screen. You gotta wait for a little to use it again. Great job! Your night is gonna be a wor-wait for it-dary night! Let's see how many levels you can complete now!
You've made an excellent job! We would like to see if you can succeed in our collection of free and online word games like you did in this game.
Developer
Physical Form developed Wordy Night.
Release Date
October 30, 2018
Features
2D colorful graphics
Many challenging levels to pass
Free hints to use
Entertaining and engaging gameplay.
Controls
You can use your mouse to play this game.