Play Now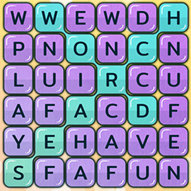 With Word Search Puzzles, get ready to become the next Word Master! If you trust your vocabulary knowledge or are willing to extend it, here is the fun you were looking for! Just follow the hints and let your eyes guide you through this letter soup. With hundreds of fun word puzzles, be ready to get addicted to this game. Find the hidden words and get the prizes now by starting the game!
No matter if you are an expert in vocabularies or bad at English, there is no doubt that you will encounter many unknown words! The objective of this fun puzzle game is to find all the given words among the mixed letters and become the word master. When the game starts, you will see some given words just above the puzzle. Try to guess the missing letters of the given words and match the words in the puzzle. If you cannot fill the missing letter in your head, you can check the given letters in the puzzle to guide you. If you get stuck, you can check your hints at the right bottom of the screen. Complete the levels and collect the gemstones! Let's see how good you are with so many words together!
Be sure to check our collection of free and online puzzle games to browse more word related games under much funnier titles.
Features
Hundreds of mini word puzzles to complete
2D colorful graphics
Unlocking colorful gemstones
Various hints to gain
Controls
You can simply use your mouse to play this game.