Play Now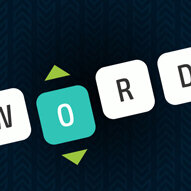 Words Cracker will make you be addicted to this game! There are tons of hidden words waiting for you to find them! It is time to work your magic on spelling through multiple levels of this game. If you feel like a footed dictionary today, it's time to start the game! Have fun!
Forget about all the word games you have played so far because Words Cracker is here to blow your mind! You don't need to have the best grammar skills but the more words you know, the better you will be in this game. Your objective in this game is to spell a meaningful word in the center row by moving the columns up or down. But you need to use every letter in each level. The game is divided into ten stages, each with 20 levels to complete. When you finish one level, you can go on to the next. Your main focus should be on the center row which is marked with yellow indicators. You can use your mouse to click and drag letters. You'll be able to move on to the next level after you've highlighted all of the letters. Will you be able to complete all of the levels and find all of the hidden words? Good luck and have fun playing!
If you want to try another game similar to Words Cracker, then be sure to check Word Sauce by clicking here.
Developer
Gamebuilt.com developed Words Cracker.
Release Date
March 8, 2019
Features
2D graphics
10 stages with 200 levels
Addictive gameplay
Educational gameplay
Controls
You can use your mouse to play this game.