Play Now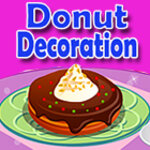 In Donut Decoration get ready to make donuts that will make your customers drool! There's nothing quite like a drool-worthy donut to make everyone's day better! So, get your kitchen ready, grab an apron, and roll your sleeves up! It's time to make the perfect donut to die for!
Are you ready to indulge your customers with delicious donuts? Mmm... Just thinking about donuts makes your mouth water, doesn't it? In this game, your objective is to make the perfect donut to lift your customers' spirits by clicking through the options! First, start with shaping your donut. Did you give your donut the perfect shape? Good job! Continue with choosing a coating. Yummy! And now it's time to add shiny and colorful sprinkles and toppings. Voila! You've made the perfect donut that will inhabit their dreams! But you're not done just yet! Choose the plate and the dessert that you're going to serve it with. The last step is choosing the best table. After you choose the table, your donut is ready to be served! Well done! You're a most promising young chef! And you're sure to attract more customers with your delicious donuts!
Oh, so you are ready to make more donuts and decorate them with toppings and more to impress everyone? Then, be sure to check Papa's Donuteria by clicking here. You'll love it for sure!
Features
Many customization options
Entertaining gameplay
Colorful 2D graphics
Intuitive controls
Controls
You can use your mouse to choose between many options!