Play Now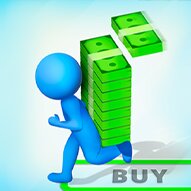 Play Money Land to become rich in hours, even minutes! Use your fingers to keep the worker running, collect bankrolls, and keep building new businesses around the district! Build your money empire brick by brick by unlocking new areas, and expand your business to the edges of the world!
This journey gives you a town ready for investment, business ideas, and enough money to start your companies! So, you can start chasing your dreams with just one click! Start running your feet and pick up the first bankrolls. On the top left, you can see your carrying capacity and how much money you have on you. There are grey buildings that you must invest in to open. Collect enough money and stand in front of these places to invest in them. Each new place increases your income per second and opens a new space for you to collect more money. There are upgrade spots on the map; you can visit those places to upgrade your income, capacity, movement, and collecting speed. You can also use these stations to hire a worker and upgrade his stats. Invest in the borders the same way to expand your map, and unlock new spaces to conquer!
If you like this addictive economy run, you can check out Restaurant Rush and build your food chain!
Developer
2Play developed Money Land.
Release Date
September 5, 2022
Features
Nice 3D graphics
A growing game map
Addictive and endless gameplay
Unlockable upgrades
Available on mobile devices
Controls
Use "W, A, S, D" or tap to control your character.