Play Now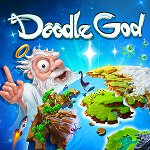 Doodle God was all alone in the beginning, with the power of the heavens in his hand! Then he made the 4 elements. Each of the elements helped create new elements such as volcanoes and seas. But that's not enough. There's still much left to do for the world is still barren and void of life. Are you ready to become the creator of humanity, civilization, and diversity?
The world is yours to create and there's much to do! It's time to start over with a clean slate and plan everything again. Your objective is to create new elements by combining the existing ones. Press the play button to start the journey. You need to use your logic and let your imagination run free to create a universe. When you unlock new materials, they'll start to appear on the planet. But to create, you have to have Divine Glow. You only have a limited amount of it so to get more, you need Mana. You'll be given missions by the Doodle God to make certain elements. You can see them in the upper left corner of the screen. You can complete the quests to get Mana and continue your adventure. Sometimes, creating new things may be a tad bit difficult so don't forget to use hints. There are also puzzles and quests you can check out to add more fun to your universe. After all, what good is a world without ice cream?
Not everyone is worthy to have the power of creation in their hands. But you've proven to be quite useful. Play Doodle God: Fantasy World of Magic now and build a medieval world. Enjoy!
Developer
Developed by JoyBits.
Release Date
June, 2010.
Features
Achievements to earn
Puzzles and quests to complete
Colorful graphics
Easy controls
Controls
Use your mouse to play.