Doodle God: Fantasy World of Magic
Play Now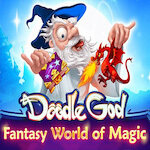 In Doodle God: Fantasy World of Magic, The Doodle God hath cometh back again and with him comes magic! He hath given thee the power of creation! How will thou use it?
Isn't it splendid to have the power to create whatever you want? You'll be able to change the world according to your wishes. But the real question is; can you handle this power? Your objective is to combine different elements and create new ones. The quest for knowledge never ends and you have millions of possibilities ahead of you! You start with water, wind, earth and ying/yang. Combine two of these elements that you think might create a new element. Voila! You have your new element! This game challenges you and wants to see if you're clever enough to create a world of magic, dragons, darkness and light. Other than the main game, there are also puzzles and quests you can try. Can you imagine a Christmas without snow? Neither can we and the White Witch of Narnia. Let's go ahead and make our own snow then! Or go ahead and create Cupids Bow. It's Valentine's Day and love is in the air! You can try to make everything that you want here. The world is at your feet. You just have to be smart enough to use the elements in the right way. Even if you're feeling stuck sometimes, its okay. You can always use a hint! There are a lot of achievements to unlock here, stranger! Let's begin our journey!
So, you like creating new things don't you? Who wouldn't? Then play Doodle God: Rocket Scientist by clicking here and let your imagination run wild!
Developer
Developed by JoyBits.
Release Date
September, 2016.
Features
Fantasy elements
Achievements to unlock
Fun gameplay
Hints to use
Controls
Use your mouse to play.