Play Now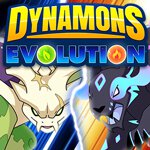 With Dynamons Evolution, get ready for a fantastic adventure of the four elements! You gotta master all the creatures symbolizing the fire, water, earth, and air. The mystic battles of the universe have never been this thrilling before! Team up and try to catch more dynamons during the fight to increase your power. The warrior with the most victories will be given the greatest awards. Are you ready to prove your skills to be the strongest dynamon master of the world?
A map full of places to discover all around the world with the greatest masters holding the four elements in their hands. Your fights are gonna be legendary and your name will be heard by all great kingdoms. Choose your first warrior to win the battles by using your super skills. If you are facing another creature without a master, you can catch it and add to your team. As you win the fights and earn many rewards, you will be unlocking new skills for your team members. You can buy a loot bag and loot chest from the in-game shop to buy new boost-ups, dynastones, and discs to capture more creatures with the coins you gain after each victory. You can visit new places and find more enemies to fight with by clicking on the world icon. Catch as many area dynamons as you can and be the greatest master alive!
Join more mystic battles to defeat the evil creatures, the only thing you should do is making sure to check DemonRift TD by clicking here.
Developer
Plinga Games developed this game.
Release Date
November 2017
Features
48 different dynamons to add your team
Several battles to win
3 areas to visit on the map
In-game shop to obtain power-ups
Controls
You can play this game with your mouse.