Play Now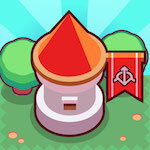 In Slime Rush TD, it's time to defend or lose! In this tower defense game, the enemy is on your doorstep and breathing down your neck! If you don't defend your kingdom, all will be lost! Everything depends on you now! Do you think you can make strategic moves that can save your kingdom?
Do you feel that? The ground is shaking. The enemy has come to conquer your kingdom. Will you allow them to take what is rightfully yours or will you fight until your last breath? Your objective is to defend your homeland by building towers that can kill the slime monsters. You have to defend the gateway and stop your enemies before they reach it. Build the towers and upgrade them to win this war. These towers will get rid of your enemies and help you earn more resources. You can build and upgrade new towers with these resources. As the game progresses you'll unlock new towers. You have to come up with great tactics and develop a good strategy to destroy the enemy waves. They'll attack from everywhere and recruit stronger slime monsters when you reach higher levels. You have 10 lives and can only allow 10 enemies to breach the gates. If more manages to pass, well, lets just say that your deeds of valor will be remembered! You can see where your enemies will spawn on the screen. Your remaining life, resources and the number of enemy waves appear at the top of the screen. Good luck!
If you like playing strategy games, you can click here and check out our other awesome strategy games.
Release Date
November, 2018.
Features
Many levels to complete
Different towers to unlock
Fun gameplay
Nice 2D graphics
Controls
Use your mouse to play this game.